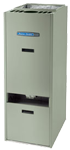 Our oil furnaces use no.2 fuel oil burned in a sealed chamber to heat an exchanger. Just like gas furnaces, oil furnaces also carry AFUE ratings and start at 80% AFUE.
Lowboy furnaces are shorter in height with the blower in back of the heat exchanger. They are typically used for basement room installations with low-height restrictions. When you want to experience increased efficiency along with the proven warranty of Thermo Pride, select the Highboy oil furnace models.
Thermo Pride Oil Furnace products are historically rated the best in the industry.
Oil Furnace Product Offering